Welcome to the Virtual Student Veterans Resource Center!

We are here to serve and support our military-connected students. Access resources and services below.
For updates on our events, programming, and services :
Do you have questions about UC San Diego's Return to Learn? Check-out returntolearn.ucsd.edu.  Please check your UCSD email regularly, as this will be the main form of communication the university will use for any updates regarding COVID-19.
Meet With Us
Connect with support services (CAPS, Career Services, Health Promotion Services, OSD, VA outreach, and VA Benefits) and SVRC staff.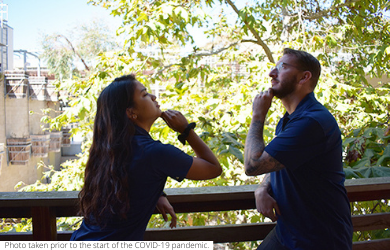 COVID-19 Student Affairs Resources and Information: 

Students can access this Student Affairs page updated with communication and information related to COVID-19.

Financial Aid COVID-19 Page: 

Students can access this page for information on COVID-19 and its impact on Financial Aid and Scholarships.

Student Academic Support for Remote Learning: 

 Through the Teaching and Learning Commons, students can get support for challenging courses, subjects, and projects. Whether in a group setting or through one-on-one assistance.

The Writing Hub @ Teaching + Learning Commons : 

The Writing hub helps undergraduate students

with their writing assignments and growing their confidence with writing academic papers. From consultations to workshops.

Laptop Lending Program: 

Students can request a loaner

laptop for the period in which students will be learning remotely due to the COVID-19 pandemic.

Using Canvas:  

Canvas is the learning platform used by UC San Diego, and several other institutions. 

Faculty use this platform to assign homework, facilitate discussions, and post notices to the class.

Using the VAC: 

 the Virtual Advising Center allows students to ask questions and get answers from their college academic advising office and other departments.

Using the REAL Portal: 

The REAL Portal offers research, internship, international, service learning, entrepreneurial, leadership, and other co-curricular opportunities that help students build real-world skills and apply knowledge gained in the classroom.

Counseling & Psychological Services (CAPS): 

Offers

services that are designed to support students through high quality, culturally-sensitive, and confidential counseling services, including individual, couples, family and group counseling, crisis/urgent care interventions, and referral services

FREE

of charge.

Student Health Services (SHS): 

All students who pay registration fees have access to SHS. Most outpatient primary care medical services at SHS are provided to you at no cost while you are a registered student.

Basic Needs (The Hub + Triton Food Pantry): 

The Hub is a new UC San Diego space that offers students the opportunity to engage in and link to

Basic Needs

resources, which includes access to nutritious food, stable housing, and financial wellness resources.

Office of Academic Support and Instructional Services (OASIS): 

OASIS offers community-based and culturally responsive mentoring, academic support, and professional development. OASIS offers support in Math, Science, and Writing.

Undocumented Student Services: 

UC San Diego's Undocumented Student Services office is committed to serving our undocumented students through a holistic approach that encompasses personal guidance, immigration legal services, advocacy, community building, and referrals.

Handshake: Student and alumni portal to jobs and internships.
Co-Curricular Record (CCR): Record co-curricular activities on your official record, and share it with employers and grad schools.
Is the SVRC still open?
Yes, we are physically open. Click here details about the physical center.